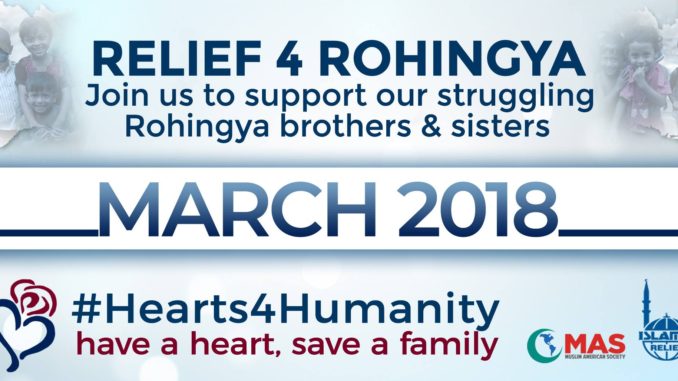 MAS Give is excited to present its third annual Hearts for Humanity project, in which all MAS chapters, masjids, MSAs, clubs, institutions, communities, and individuals nationwide can participate and contribute in raising funds and awareness about the Rohingya Crisis via Islamic Relief.  This campaign is a fundraising and awareness-spreading effort in hopes of raising for the Rohingya. This year, we have 18 MAS chapters in 18 cities around the country participating in a fundraising competition from March 1st to March 31st.
A portion of the profits will also be going to the Rohingya Center in Chicago via Zakat Foundation through a separate LaunchGood campaign page (see below). This center is a community space for maintaining the Rohingya refugee community's identity, learning the English language, and developing the social skills necessary to integrate into the new society that has adopted them.
Thousands of people across Myanmar are displaced and are unable to return to their homes. The United Nations estimates that more than 168,000 people have been displaced since inter-community conflict erupted in 2012. About 500,000 people have sought shelter in Bangladesh since violence erupted in Myanmar in late August 2017, according to the United Nations.
And continued tensions keep many in danger and in need of help. That exacerbates other problems, such as food insecurity: According to the World Food Program, more than 162,000 people are facing food insecurity and another 78,000 people are in need of immediate food assistance. Islamic Relief has helped hundreds of thousands of people suffering in Myanmar. As a family, Islamic Relief has been providing aid across Myanmar since 2012. And in 2015, an official office, Islamic Relief Myanmar, opened.
But as the conditions on the ground remain bleak, the number of people who need assistance and the need for more support grows. While many of our humanitarian programs in the area have now been completed, Islamic Relief USA continues efforts throughout the year with its seasonal Ramadan and Qurbani distributions to those in need. Islamic Relief is also actively working to implement more programs and emergency aid distributions to help those affected by on-going conflict and violence in the region. Your support is essential to getting these efforts in place.
MAS Atlanta has joined the Hearts4Humanity effort this year again. Please join us in supporting this years worthy cause: https://www.launchgood.com/project/h4h_2018_team_atlanta#!/