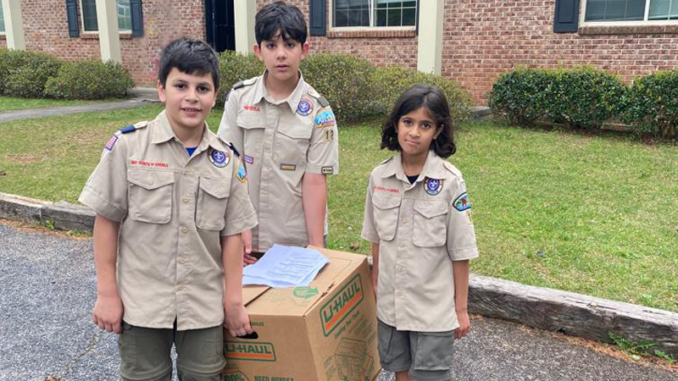 Last year, during Ramadan 1433 (April 2022), our scouting group was invited by Ethaar (a community-based, not-for-profit organization that serves local refugees and underserved families) to help pack and distribute food bags and boxes to the refugee families in GA, which is the tradition for many Muslims before and during Ramadan as charity to gain the benefit of the multiplied rewards in the afterlife, along with fasting, praying, Quran recitation, family and friends visitations and many other good deeds that is not just done during Ramadan, but increased during that month.
Another parent and I formed one team, with us was a group of scouts and siblings. We started first by picking carefully packed boxes of goods by a group of students at Amana Academy, loaded them into our vans, then we were handed a list of addresses to go and distribute to.
Scouts were taking turns using the GPS and entering the address, then helping in directing the driver to the right building, mainly old apartments with extra letters and numbers, then moving to the next one. The kids were very excited and it was a very fun service project. But I also noticed lots of similarities between distributing the food boxes as an activity and Geocaching, and as geocaching has some etiquettes, here are some similar points:
Know before you go, having some information about the family size, to know which box goes to which family based on the need. The bigger the box, the heavier the box, the bigger the family, the more you serve, the more you gain as rewards in the afterlife.
Walking on durable surfaces, and reaching the apartments using the right paths, side walks, stairs, and doors, as running on the grass by a group of scouts may leave lots of dirt on the stairway. Also be careful not to trip while excited and running, if you hurt yourself you will not be able to serve.
You are visiting a diverse community, and while they appreciate your help, your safety is also important, remember the buddy system and the trusted adult supervision.
Some cultures may just smile back, and others may ask you and insist that you come in and have a drink or even a meal as their way to show their gratitude. Never enter any apartment and find a nice excuse, and remember your shoes may not be clean, and also the family in the house may not be ready to have a guest.
Be considerate of the family you are visiting and their neighbors, be quiet when you arrive and while looking for the right apartment, no need to let everyone in the area know that this family is receiving food boxes. Also don't look into the windows trying to see who is there in the apartment.
While taking photos can encourage others to join the effort in the future, try not to take photos with the families you are serving, but remember, some refugees flee their home countries and leave behind wealth and big families, and they may not feel the same way as you about the pictures.
You are visiting residence areas, as mentioned they are not expecting you, the house may not be in the best condition, and the family members may not be in their best clothes, so don't look and stare inside, and don't mention anything you glanced at to anyone and respect their privacy.
Sometimes we were not able to find the family we were searching for, the address is not accurate or they are not in the apartment, and sometimes we find a neighbor who keeps asking for help in front of his/her kids, it is okay to give them as well, most probably the majority in the neighborhood deserve some type of help as well.
In Georgia alone, we have hundreds and maybe thousands of refugees, plus families in need of help and assistance, some of them are known to some organizations that has their cases and studied their needs, but others may not, don't feel disappointed by the numbers, and the conditions of these families, and just do your best and keep doing it.
Some of the items you are delivering are like the geocaching travel token, you are delivering to one family, and that family is delivering it to another family, it can be as is or in the form of a cooked traditional dish as they used to do in their home countries.
Take notes and log which family received the aid and which one did not, and report back to the organization planning the distribution, it is not about the boxes that you distributed, but about the families you are serving. A family not receiving the box, may find it hard to get through the month.
Finally, after each visit, with all the prayers of gratitude you are gaining from the family householder, and the smiles you will see on the kids' faces, you will feel like you are receiving more than what you delivered.
At the end, spread the word, encourage more friends to join the effort, think about ways to make it easier for helpers to support, more convenient for families to participate together, and to find ways to make it more fun and rewarding.

If you are new to geocaching, check the official website, and if you are new to Ramadan food packages search for organizations that can help you like Ethaar, ICNA Relief, Istanbul Cultural Center or MAS Food Bank. Also check MAS Food Drive, were we will be looking to work with partners and expand the effort.