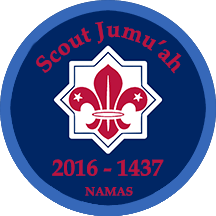 Friday, February 10, 2017 is the birth date of the first Scout Jumuah, a project initiated by the National Association of Muslim Americans on Scouting (NAMAS). Jumuah literally means Friday and it references the congregational prayer that Muslims hold every Friday.
Pack and Troop 12 are planning to participate in this historic event. However, as our scouts are mostly from the Fulton County area, we chose to participate on Friday, February 17th instead to take advantage of a student/teacher holiday.
Our participation will include:
Sending Letters to Masjids in our area asking them to talk briefly about scouting in general and Scout Jumuah in specific at the religious sermons delivered by the participating masjids.
On February 17th, Cub Scouts and Boy Scouts in their full uniform will setup a display with photos in front of Masjids and will be ready to answer any question regarding what activities we do in scouting, what boys learn in scouting, and how to register.
On February 19th, young and older scouts with Adult supervision along with other volunteers will carry on a service project, cleaning up trash all around participating Masjids. The time spent will count towards service hours for Scout rank requirements.
How to participate in the service project?
Fill in this form and we will send to you the details of which Masjids and what time.
Related Article:
Scout Jumuah: A New Tradition In the Atlanta Scouting Community